Posted on February 11, 2015
By Nick Chiechi, President, CS Designworks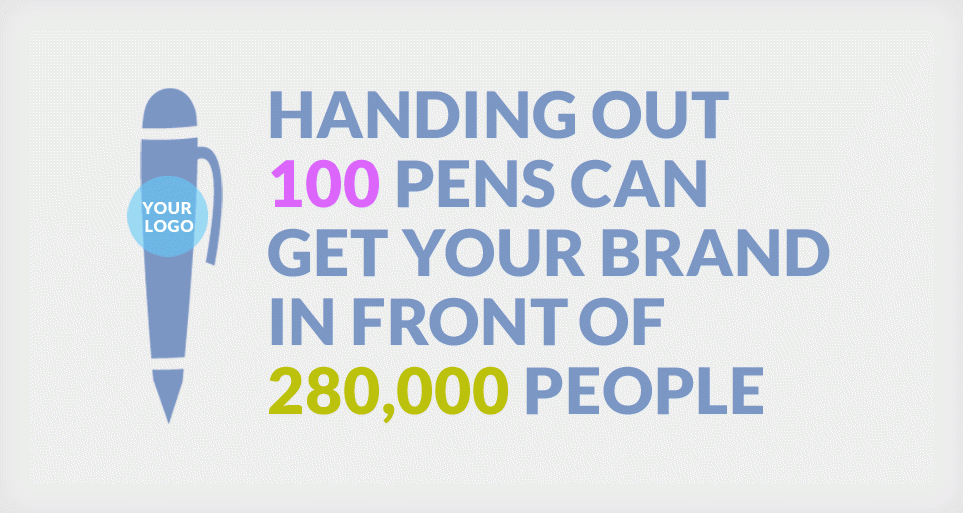 Most businesses underestimate the power of promotional items. The above figure is not an exaggeration and was calculated by handing out 100 pens that cost $0.62 each and yield 2,805 impressions per unit according to the Advertsing Specialty Institute (ASI). CS Designworks chose the top five items with the largest impact. Each item generates thousands of impressions per piece. Imagine the impact that ordering a few hundred items could have on your company's visibility.
CS Designworks Top Five Promotional Items for 2015
Bags

While many promotional items generate a high number of impressions per item, bags need to be your number one item choice. With an enormous amount of impressions, 5,772 per bag, they are easily the item with the largest impact. And that's for just one bag. Why not give away 100 at your next event? Do the math on what that could mean for your business.

Writing Instruments

Pens, pencils and all other writing instruments are a favorite giveaway for many reasons. They are small, lightweight and easy to carry around. They are used constantly whether at the event or a month after the event has ended. An ASI study found that as many as 56% of consumers own logoed writing instruments, with each pen producing 2,805 impressions. What if you handed out 250 pens at your next event? Your company visibility immediately skyrockets.

Caps

As one of the top American trends, it's only natural that they deliver one of the highest numbers of impressions for promotional products. A whopping 3,136 impressions for one cap, whether it's a beanie or a baseball hat. Regardless of the style, think about that number and your next golf event. If more than 3,000 people view one hat, think about 500 hats per golf event. Your company has immediately expanded its presence in just a matter of minutes.

Outerwear

Outerwear consists of a variety of options including sweatshirts, jackets, windbreakers and hoodies. Outerwear is typically given away during tradeshows, sporting events or outdoor occasions. Comparable to t-shirts and other wearables, outerwear generates 2,650 impressions per item. With a variety of options for styles to fit any event or meeting, the possibilities are endless for you to expand your reach.

Logo T-Shirts

Based on a 2014 Advertising Specialty Institute (ASI) global impressions survey, we know that Americans love a good free t-shirt. And with such a variety of styles, colors and fabrics, it's a great option for any type of event. 48% of US consumers surveyed said that they own logoed t-shirts, which generate 2,450 impressions per shirt. With a small order of say even fifty shirts, you're dramatically increasing the exposure and brand recognition of your business.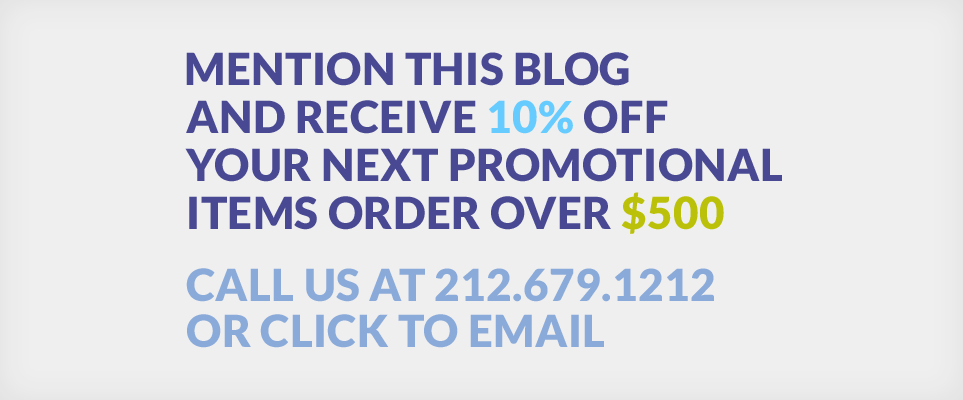 Why Clients Choose CS Designworks for Their Promotional Products
CSD has been offering our clients promotional items for decades. Clients of all sizes come to us because of the concierge service they get, the unmatched industry knowledge we possess, and trust and reliability that we provide. Many of our orders are deadline driven and our impeccable track record gives surety to our clients when ordering a promotional item.
Ready to increase exposure and take your brand to a new level? Mention this blog and receive 10% off your next promotional items order over $500. Call us at 212.679.1212 or send us an email.
Source: ASI Central
ASI's Global Advertising Specialties Impressions Study, 2014 Edition (PDF)
http://www.asicentral.com/research/impressions-study/2014/
@CSDesignworks