Corporate Communications
Coordinated Messaging Builds Profile
Since we were founded in 1991, CSD has delivered a full range of marketing communications products to reinforce the value proposition of our diverse client base.
Design excellence in in our DNA and we believe that inspired design stands behind the success of all products, brands and communities. Design sends an instant clear message about your market position, your standards, who you're targeting and so much more. All of your brand elements must be carefully coordinated to continuously elevate your identity.
We get it – for over two decades we've kept companies on the map and ahead of their competition by applying great marketing concepts.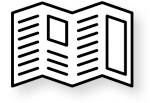 Our Services
Branding
Brochures (Print & Online)
Inbound & Outbound Marketing
Corporate Identity
Logos
Advertising
Banner Ads
Direct Mail
Email Campaigns
Signage
Invitations
Have A Look —

Corporate Communications