Lead Generation: Leading the Way to Qualified Customers
Posted on March 31, 2017
By Fredrick Ochoa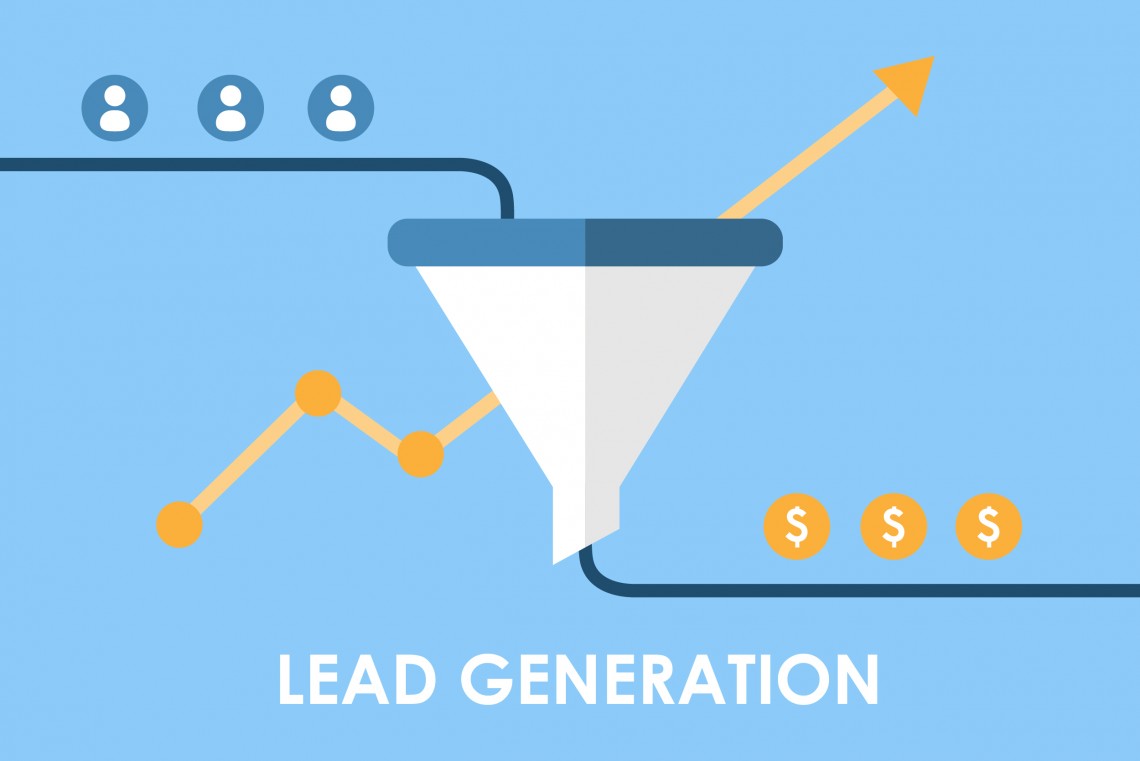 Leading the Way to Qualified Customers
Increasing sales for our clients is a top priority and having the right customers find them is paramount. Lead generation is a great way to find new customers for companies and it has a major impact on sales. 67% of B2B marketers say they see a minimum 10% increase in sales opportunities by nurturing leads.1
Proper Leads and the Importance of Lead Generation
A lead is a person who has shown interest in your company in some type of way.2 They are potential customers and they're an important part of growing your business and increasing sales. Lead generation is the process of attracting and converting people and prospective customers into leads by acquiring their contact information.2 Both of these terms go hand in hand with each other and are hallmarks of the inbound approach to marketing.
A key purpose of your website is to drive leads to your company. In fact, your whole digital presence should be geared toward generating leads. It is integral to have a well-developed lead generation strategy.
What are the Types of Leads
Before developing a lead generation strategy, not the different types of leads.
Offline Leads
Even before the age of the Internet lead generation was important, therefore offline leads are the traditional types of leads. Offline leads come in a variety of forms with the most common being those made through networking. These leads are still important today because they have the potential to turn into online leads.
Online Leads
Any leads that come from people finding you on the Internet. These often times will come through inbound marketing efforts, such as social media marketing and search engine optimization (SEO). All content should be created with lead generation in mind.
Whether leads come from offline or online, the most important factor is that they be qualified leads. These are people who are more likely to purchase your product or service and become customers. Web traffic becomes leads, who become qualified leads, who become customers. 61% of B2B marketing say that generating qualified leads is their biggest challenge.3
A Solid Lead Generation Strategy
As discussed before lead generation really goes hand in hand with inbound marketing. In order to generate leads you need to diversify your digital presence. You need to have more than just a website. In order to generate leads companies need to be constantly creating content on their site, have websites that are properly optimized for search engines, have active social media accounts, and consider search engine marketing (SEM).
Creating Content
Content creation is really the heart and soul of the lead generation process. It comes in many forms and is something that brands should embrace rather than be scared of. One of the most popular forms of content creation for businesses is blogging. Blogging is greatly beneficial as small businesses who blog get 126% more lead growth than small businesses who don't.4 The more content that a business creates the more likely consumers will view them as reputable. Content creation is also an essential part of both SEO and Social Media marketing.
Content that is created for the purpose of generating leads is called a lead magnet. Lead magnets can be something simple like a blog post with an email sign-up at the end, or something more complex like a white paper or guide where users have to input their information in exchange for the download.
Search Engine Optimization (SEO)
The most organic way for you to generate leads is by having people find you on a search result page. This is done less organically then many users realize. In order to appear on the first page of search results websites optimize their content using keywords. The importance of keyword research is ever increasing as 82% of marketers report that effectiveness of SEO is on the rise.5 Read more about search engine optimization here.
Social Media Marketing
While social media may seem like a less obvious way to generate leads it's vastly important. 79% of twitter users are more likely to recommend brands they follow.4 Effective use of social media can not only generate leads but also improve brand awareness. In fact, 92% of business-to-business (B2B) marketers use social media, making it the most used strategy, rivaling email newsletters.6
Search Engine Marketing (SEM)
SEM is the paid version of SEO and keyword optimization. Companies pay to appear in the advertisement section of search results. As with SEO many factors have to been taken into consideration when doing SEM, such as the volume of the search and the cost per click.
The Art of Managing Leads
Having a well-developed system for capturing leads is vital because it allows for leads to be organized, updated, and contacted. The point of lead generation is to build relationships with customers (or potential customers) and increase demand for your product or service. Effective lead generation and management will result in increased sales because it becomes clear what the customer wants and when they're ready to buy. This process is called lead nurturing. Leads are managed and nurtured through a customer relationship manager (CRM). Our partner, Hatchbuck offers a CRM management system as well innovative marketing automation tools.
CRM's allow for proper lead management and effective communication to leads through segmenting, tagging, and scoring. Lead scoring is the process of assigning leads based on how engaged they are with your company.7 Through lead scoring you can ascertain how far into the buying process any given lead is. When leads are segmented and scored you can create targeted emails that are more effective than general email blasts. Hatchback allows for emails to be sent directly through their system, easily choosing between segmented groups. Another great feature of CRM's is the ability to track what is working or what isn't and adjust your lead nurturing approach accordingly.
Lead scoring and segmentation is done through marketing automation. Marketing automation technology is used to track a lead's interaction with emails and on your website and tags and scores them accordingly. So, for example, if someone always interacts with emails about generating leads, downloads guides about generating leads, visits your website often and looks at landing pages based on generating leads, then they would be tagged as someone with an interest in lead generation and have a high score. The higher the score the more likely it is that they are ready to purchase.
Managing and nurturing leads effectively also has the ability to procure brand promoters. If someone who once was a lead becomes a customer chances are that they had a positive experience with your company and they will spread the word. Having people relay positive messages about your company to people that trust them is invaluable.
A Quick Review
Lead generation is a process that requires a lot of time and dedication. There are various factors that go into generating leads: social media marketing, original content, search engine optimization, a conversion centered website, etc. If preformed effectively, lead generation will results in a boost in sales and potentially increase your brands image.
CS Designworks can help with the lead generation and lead nurturing process, contact us for a quote.
Sources
1.https://www.hubspot.com/marketing-statistics
2.https://blog.hubspot.com/marketing/beginner-inbound-lead-generation-guide-ht#sm.001wpvkog1ax0flxsww1t6usf078q
3.http://www.slideshare.net/hschulze/b2-b-lead-generation-report-2013/2-INTRODUCTION_Welcome_to_the_2013
4.http://www.hatchbuck.com/wp-content/uploads/2016/05/Small-Biz-Guide-to-Online-Marketing.pdf
5.http://www.marketingdive.com/news/study-creating-content-is-most-effective-and-most-difficult-seo-tactic/430335/
6.http://contentmarketinginstitute.com/2014/10/2015-b2b-content-marketing-research/
7.http://www.hatchbuck.com/resources/lead-generation-strategy/
@CSDesignworks