Paying for Social Media Advertisements, Is It Worth It?
Posted on June 01, 2017
By Fredrick Ochoa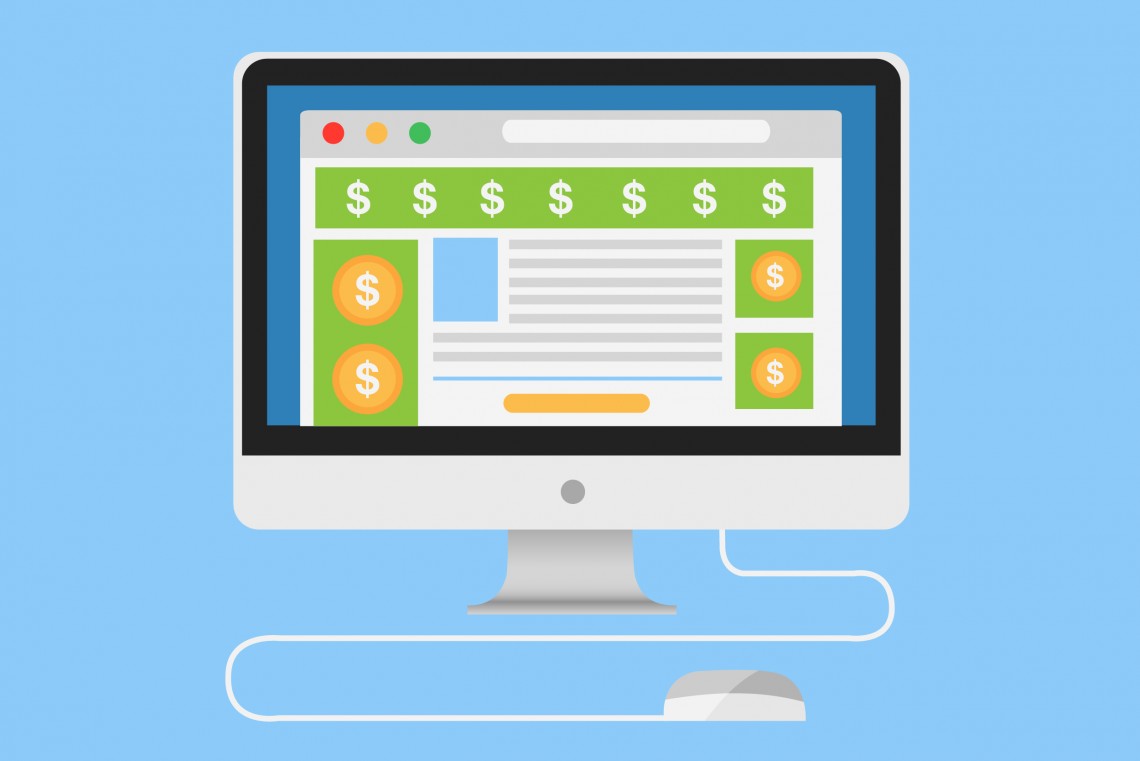 If you haven't heard by now, social media is a huge cultural phenomenon that nearly every company should have a presence on, and yes that includes B2B organizations. Social media can be looked at from two content perspectives: owned content (normal post) and paid or sponsored content. If you are a business and questioning whether you should get into paid content the answer is undoubtedly yes. In 2017 it's predicted that there will be a 26.3% increase for spending on social media ads globally.1
So how does paid content on social media work and what are the benefits? That's exactly what I'm here to tell you.
The Basics
With 2.34 billion people on social media worldwide it's easy to see why social media gains increasing interest from marketers year after year.2 This wide database of users means that there's a flood of content, and standing out as a person, let alone a business is a difficult task. Fortunately there is a solution: paid social content (also referred to as social media advertising).
Paid content creates a place for your content on users feeds so that it can actually be seen and engaged with. Additionally social networks provide measurement tools to track campaign success as well as ROI figures.
Each platform has their own name for paid content but they have some commonalities.
1.They operate on Cost-Per-Click (CPC) or Cost-Per-Impression (CPM) structure. This means that they are less expensive then traditional form of advertising, and that they only cost money when they generate clicks.
2. They allow users to create posts specifically for advertisement purposes. This means that posts can be created that won't appear on a business profile. This prevents an account from looking liking spam.
3. They allow users to boost or sponsor post that have already been created. Sometimes there are good, content-rich posts, that businesses want more people to see. By boosting a post more people will see it and therefore engage with it. This method allows for your current followers to see the post organically and for non-followers to discover you as well.
4. They have the ability to be precisely targeted. With sponsored ads, audience and engagement increase. This is because not only is a bigger audience being reached but the right audience. Think about the amount of data that social media networks collect on their users. This is all data that the different platforms let advertisers access and use to their advantage when creating paid content.
5. They offer measurement tools to see what is working and what is not. Advertisements can then be retooled and adjusted to improve the success rate.
The fact that these advertisements exist on social media should not discount the effort and planning that they take in order to be properly executed. Just like with any other form of marketing there needs to be a formalized strategy that is targeted to hit the right users. Another key point is that just because all of these networks are categorized as social media platforms does not mean that one size fits all. Advertisements need to cater to the individual needs of each network in order for them to be successful. Let's take a quick look at the best paid platforms.
Facebook
Let's start with biggest social network. It's not only the biggest network in general with 1.3 billion active monthly users but also the most favored when it comes to paid social ads. 84% of B2B marketers using paid social use Facebook, followed by Google ads at 41%, and LinkedIn ads at 18%.3 The reason for this is because on Facebook, desktop ads have 8.1x higher click-through rate and on mobile a 9.1x higher click-through rate then on normal websites.2 Not only is it effective, but it's also the most cost-effective of the platforms.
Facebook has two types of paid content: Promoted (or Boosted) Post and Ads.
Promoted Post
These are regular posts that appear on your page. Once they are published to your page you can boost them and push them out to a greater audience then that follows you. The benefit of these is that they increase engagement on your page and usually result in more page likes. They also blend in with other post on users news feeds quite well. Essentially it doesn't scream "this is an ad!" like normal advertisements would. Facebook is all about not being too blatantly sales forward, and more about conversational soft-sell type content.
Facebook Ads
Facebook ads are posts that do not appear on your businesses' page and just on targeted users' news feeds. While slightly more advanced then promoted post they have more benefits. With Facebook ads, specific call to actions can be included that aren't available on promoted post. These include things such as "click to learn more", "buy now" or event responses.
Good to Know
Facebook has so much data on users, which enables ultra specific targeting. You can target based off traditional demographics, as well as interest and behaviors. Although one danger of these advanced features is that they can become counter intuitive. For example if you target people who work in marketing, you may miss out on a multitude of users who do not include their place of work on their profile.
Facebook has amazing metrics that show how advertisements being run are performing. Marketers have the ability to see who is responding best to the ad based on demographic information and relevancy score. If an advertisement isn't performing well, it can immediately be taken down and edited so that it will perform well according to what is working.
Facebook also owns Instagram, meaning any advertisements or sponsored post created on Facebook can be pushed to Instagram.
YouTube
YouTube is the second biggest social network, as well as second biggest search engine with 1.3 billion unique monthly visitors.4 This may be the reason that 100% of the top 100 global brands have run ads on the platform.3 Google owns YouTube which means that all advertisements and sponsored post are run through Google.
One giant benefit of Google's ownership of YouTube is that content posted, whether that be sponsored or otherwise, helps with your Search Engine Result Page (SERP) ranking. Read more about SEO and SERP here. Increasing SERP ranking is hugely beneficial to business because it means that they are easier found organically.
YouTube advertisements work two ways, they can either be at the beginning of videos or you can promote your own videos through Google AdWords. Now if you're thinking about all the advertisements you've skipped on Youtube and if it's really worth the investment then fret not: you only have to pay for the ad when users actually watch it and not every time it's shown.
LinkedIn
For B2B organizations it's no doubt that LinkedIn should be your prime social network. Although this is true, a lot of people don't think of sponsoring content on LinkedIn, even though it might make the most sense.
LinkedIn allows you to target ads based on industry and even position held, due to the structure of the network. So for example, if we wanted to boost a post about our Marketing Acceleration Plan (MAP) we could target individual's who are COOs. This targeting is proven to work too, LinkedIn is 277% more effective at lead generation than Facebook and Twitter.5
This increased probability of generating leads does come at a price though. LinkedIn is known for having the most expensive advertisements on its platform in comparison to other social networks.
Twitter
Often overlooked in the B2B world, Twitter should not be ignored. 66 Percent of Twitter users have discovered a new small or medium business (SMB) on twitter, and 94% plan to purchase from those they follow, which might be why 63.5% of social media managers list Twitter as one of their top social media platforms in terms of ROI.6
Like Facebook, Twitter has a variety of different forms of advertisements: Promoted Tweets, Promoted Accounts, and Promoted Trends.
Promoted Tweets
This is Twitter's Answer to Facebook's Boosted Post. These are tweets that are promoted to users who are not already following the business' account on Twitter. These appear directly on targeted users' timelines and at the Twitter search results.
Promoted Accounts
This is the same thing as a promoted tweet, except it focuses on promoting an account and not a specific tweet. The call to action with promoted tweets is for users to follow the account. In terms of B2B this is great because you're gaining followers who are actually interested in your business, followers who could convert into leads.
Promoted Trends
The most expensive form of advertising on Twitter, this allows for companies to create trends that everyone sees on their "trending" section. This starts a conversation, but is probably more useful for the B2C world than for B2B organizations.
Depending on which form of advertisement is chosen, a campaign objective is then selected. There are a variety of these, but the campaign objectives I'm going to focus on are website clicks or conversions and lead generation.
In a website click or conversion campaign you're charged per click. Additionally a "Website Card" can be included that shows a preview of the website embedded within the tweet.
In a lead generation campaign, tweets are promoted that include "Lead Generation Cards" and you only pay per lead collected. These cards allow for users to share their name, email, and Twitter handle (@name) within two clicks without ever leaving twitter.
Quick Review
Utilizing paid content correctly can help increase visibility, build brand awareness, increase followers, increase engagement, and possibly generate leads. Every social network allows for precise and targeted advertisements to be created; So not only does paid social content allow for more users to be reached, but it also allows for the right users to be reached.
With social media ad spending expected to exceed 35 billion in 2017, which would make it 16% of all digital ad spending globally, it's important that advertisements be effective.2 CS Designworks can help solidify your social strategy, contact us for more information.
Sources:
1. https://blog.hootsuite.com/social-media-advertising-stats/
2. https://www.statista.com/topics/1164/social-networks/
3. https://www.hubspot.com/marketing-statistics
4. http://www.sprinklr.com/wp-content/uploads/securepdfs/2016/03/20140915_WP_EN_Everything-You-Need-to-Know-About-Paid-Social_V01.pdf
5. https://blog.hubspot.com/blog/tabid/6307/bid/30030/LinkedIn-277-More-Effective-for-Lead-Generation-Than-Facebook-Twitter-New-Data.aspx#sm.001wpvkog1ax0flxsww1t6usf078q
@CSDesignworks