Posted on January 23, 2017
By Theresa Chiechi, Designer, Illustrator, Writer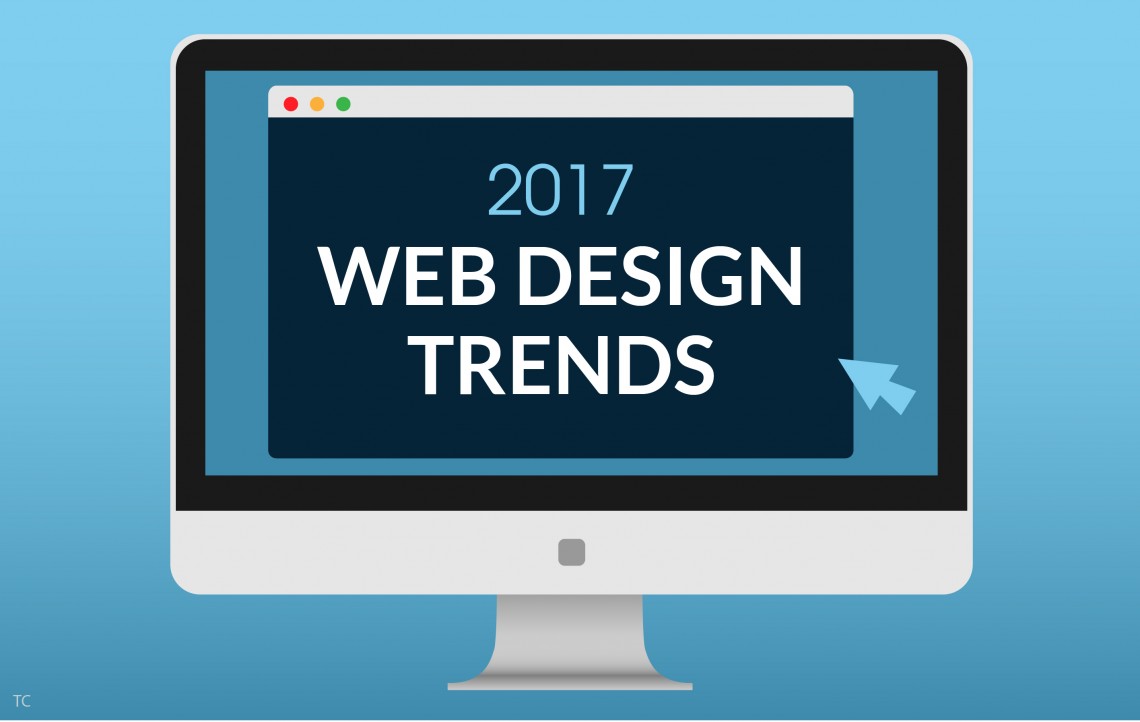 Website Trends of 2017
With the New Year comes new trends and website development is no stranger to change. As the Internet becomes more sophisticated and Internet users' habits evolve, web designers must adapt to stay relevant. CS Designworks has compiled a list of ten trends to keep an eye out for in the upcoming year.
Content is King
Back in the early days of the Internet, businesses with a website (even a poorly designed one) were revolutionary and ahead of the game. Now everyone has a website and it is getting harder and harder to attract new visitors. Websites need to step up their game and not only showcase their service but also provide more of an incentive for visitors to stay. Businesses are turning to providing content; websites with a blog full of consistent original content are taking the right measures. In addition to a blog, websites that showcase more video and illustrated visuals increase their chances of visitors staying on their page.
Simplicity
Flat Design ushered the movement towards simplicity and so far, simple design has proven its staying power. Gone are the days of bevel and emboss, drop shadows, and other flashy, cluttered design elements. Minimalist designs are still trending and aim to offer users an easy to navigate experience free of any unnecessary clutter. This reflects users shortening attention span and desire for clear and understandable visual information.
Mobile Friendly
CS Designworks has talked about this before, but websites that are not mobile friendly severely hurt their chances of being discovered in search engines. In today's society, where nearly everyone is reliant on smartphones, your website needs to function on both desktop and phone screens. Google has firmly stated their preference towards websites that translate well to smartphone formats, either by responsive or adaptive design, by implanting algorithms that boost mobile friendly website search engine ranking. This boost gives mobile friendly websites a higher chance at attracting visitors and getting those conversions. If you haven't made the update yet, 2017 is the year to do it.
Brighter Colors
Perhaps to welcome a brighter future and to let their personalities shine, websites are making their color palettes brighter and bolder. Take Instagram for example and the evolution of its logo1. The past logo was featured a more subdued color palette but now has changed to a loud, punchy rainbow. Helpful in attracting the attention of visitors, vibrant hues seems to be the key for 2017.
Gradients
With the popularity of Flat Design gradients were fazed out for a while in favor of a simpler look but are now coming back in full force. Most commonly in the form of duotone, websites and logos have been updating their looks with a smooth and gradual blend of colors. Once again, refer back to Instagram.
Animations and GIFs
Whether you pronounce it Jif or Gif, both parties can attest to the popularity of moving images. While most popularly used for comedic affect on social media, website designers are showing us that GIFs can come in more sophisticated forms to add unique design elements on any site2. Cinemagraphs, still photos with elements that have repeated movement, GIFs, and animations are being featured more and more on websites as browsers become more advanced and able to process more. As it becomes more difficult to stand out from the group, adding a moving visual element will help liven a web page.
Death of Stock Photos
With great convenience comes great responsibility. Stock photo libraries provide a vast supply of high quality images for a small price (sometimes even for free) and while this can seem very tempting for a business with a budget and with limited time, the Internet is saturated with stock photos, to a point where certain images (Smiling Headset Lady, Overused "Organic" Growth Image, the Business Meeting Handshake, Laughing Salad Lady) are so commonly used they've become memes. Authentic images are on the rise and companies will be putting more of an effort be relatable and genuine in the upcoming year. This means a push towards imagery that is more sincere and a step away from the generic. Custom illustrations are even a viable alternative to photography.
Social Media
Social Media Marketing has taken a hold of businesses of every type and everyone and their grandma is making Facebook accounts. Social Media can be an excellent form of marketing, if done correctly. One way to increase your companies' social following is by having icons that link to they various accounts. Simple icons of the Facebook, Twitter, and LinkedIn logos that will take a viewer to that account are essential to forming a community.
Bold Type
The theme for 2017 seems to be "Notice Me!" Designers are moving towards attention-grabbing elements and big, bold typography is no exception. Websites will dedicate a large space for a headline or mission statement and the intent is all about being clear. In a world that is flooded with content and information, it is becoming increasingly important to provide simple, bold, and clear statements.
Landing Page VS Homepage
In 2017 we can expect to see the value of homepages decrease in favor of landing pages. Landing pages are standalone web pages designed for one specific focus4. This focus usually is a call to action prompting viewers to either buy, download, or sign up for something. While homepages are meant to attract everyone, landing pages are personalized for specific audience and have a very specific purpose. This tailored message can help increase conversion rates.
Sources
https://premium.wpmudev.org/blog/web-design-trends-2017/?utm_expid=3606929-94.Ie3dH-CaRwe6MU3VrZsdvw.0&utm_referrer=https%3A%2F%2Fwww.google.com%2F
http://unbounce.com/landing-page-articles/what-is-a-landing-page/
@CSDesignworks